Behaviour consultations
Below are some of the more common unwanted behaviours, however I may also be able to help with many other issues.
Anxiety/unwanted behaviour when left alone

Inappropriate toileting/spraying.

Fear and phobias

Resource guarding

Obsessive/compulsive behaviours
Chasing

Food stealing

Aggression

Over excitability

Inappropriate reactions with children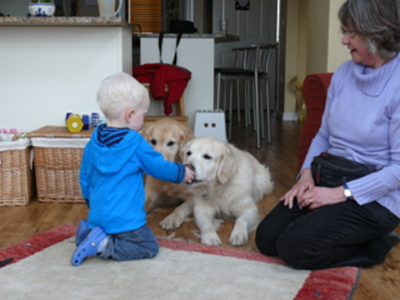 Initial Fee – £180 + mileage
The fee includes the following:-
Introductory phone call
Initial 2 hour consultation
Written reports to both you and your vets
1 hour follow up visit
Telephone and email support in-between the two visits. At the follow-up visit, we discuss any further support that you and your pet requires, and an appropriate support package is agreed and implemented as needed.  The level of support will depend on your pet's issues, but all further fees are discussed and agreed in advance.
" I think we now understand that he (Max) was anxious and not a cheeky teenager wanting attention. Max seemed to be a happy dog today."
Other Services Offered
Puppy classes in local hall/training centre. Getting the right start for puppies and their families is essential. "Life Skills for Puppies" with the emphasis on developing a well behaved dog that is a joy to own is the approach that works well in these days of busy lives. From  £89
Home-based "Life Skills" puppy course – 4 visits to your home, with an extended first session to include getting to know you and your puppy, introducing the theory and also a first practical.   Guidance notes, telephone and email support are part of the package. £175 + mileage @ 45p per mile.
Beginner dog, life skills course. For dogs over 6 months. – fun, active sessions. Helping families and their dogs. £89.
Pre – Pet advice. One to one time for those individuals or families thinking of having a pet for the first time or introducing a new pet to the household.
£40 + mileage.
"New" Pet course.  4 visits in the comfort of your own home for training advice and support, covering all you want to know about the early weeks of having a brand new member of the family. Also email support for up to 6 months. £170 + mileage.
Rabbits, Guinea pigs, chickens and all other small furries. Usually enough help can be offered in one visit so a  charge of £35 an hour + mileage may be appropriate. If more visits are requested/required then the rate will be negotiated with the owners.
Training walks
These may be appropriate for dogs that are having difficulties with things such as pulling on the lead, being vocal when out and about. This service is not for those dogs with serious behavioural difficulties.  A telephone consultation will take place in the first instance.
One-2-One pet training sessions:  Either I can come to your home or other place of your choice, this is suitable for straightforward advice and practical training sessions. E.g. walking nicely on the lead,  jumping up at visitors. £90 + mileage for 2 visits or £175+ mileage for a series of 4 visits.
All fees are payable by cash, BACS  or cheque at the time of the visit/course
" Very relaxed and friendly classes. Really enjoyed them"